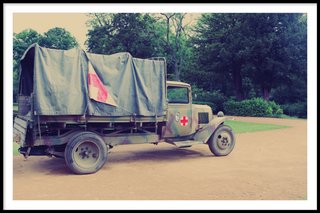 What do we do.....
Wartime Productions provides supporting artists including uniforms and props for your WW2 production.
Wartime Productions is primarily run by David Forde a WW2 Living historian, period vehicle owner, and TV/Film supporting artist.
Alongside David is Christopher Wilson, a Professional Agency and Self Represented, Day Player, Walk On Artist, Stand In, Picture / Body Double (for a number of "A" list Actors).
Over the years we have worked on numerous Film/TV productions together providing historically accurate WW2 impressions.
We have a vast selection of WW2 uniforms to draw upon as well as related props and even vehicles.
As with any project we are involved in we will always do our best to enhance the production with advice and related props.
Below is just a selection of the character impressions we can portray including characters such as
German field marshal Model to RAF Trafford Leigh-Mallory.
All uniforms are owned by us and so come as a package with our supporting artist role.